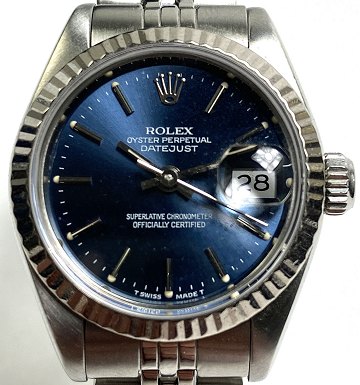 Rolex Datejust 26 - damearmbåndsur
Description:
Rolex damearmbåndsur, model Datejust, ref.nr.: 69174 i urkasse og med oysterlænke af stål, stålblå skive med stregindikationer, datoangivelse ved 3" position og safirglas. Krans af hvidguld. Automatisk urværk. Urkasse diameter 26 mm. Serienr. 978XXXX fremstillet 1987
Information from seller:
The Watch is sold for a customer who claims it to be in working order - but ebuy.dk gives no warranty for the functionality.