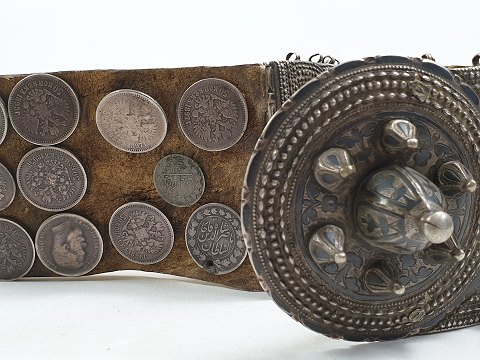 Russian empire - Cossack silver belt - decorated with 62 coins - circa 1910
Description:
Exceptionally well made 1910s belt with big silver buckle and 61 Russian and Ottoman empire coins. Mostly 25 and 50 kopeks. Coins date from the 1810s to 1924.
The silver buckle is unmarked, however, this is a well known Russian cossack belt buckle design.
The influence of Ottoman empire can be seen in decorations.
These kinds of belts were usually worn by women.
1924 coin was most likely a later repair, nevertheless, the belt is in very good condition

ca. 8 cm wide and 86 cm long
Total weight - ca. 1200 grams

A very rare item in Russian antique market
Information from seller:
This item is not for sale at auction - but can purchased right away. The "Buy now" price is all inclusive - there is nothing added, except possible shipping costs.Note! Prices are subject to prior sale.