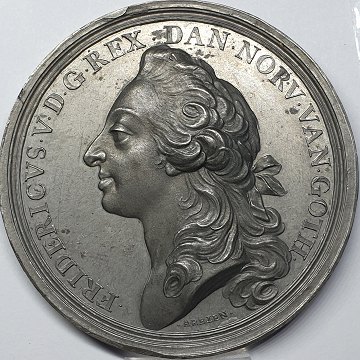 Danmark, Kunstakademiets store Guldmedaille 1755, tinafslag, G# 446
Description:
31.4 gram, 43 mm. af Magnus Gustavus Arbien. G# 446
prøve eller gengivelse af en rigtig sjælden medalje.

"Bagsiden med Overskriften MERENTI (til den fortjenstfulde) viser Retfærdigheden, der staar i Begreb med efter Minervas Forslag at overrække Kransen til en af de tre Puslinger, som foreviser Arbejder i Bygningskunst, Billedhuggerkunst og Maling. - Den 24. Marts blev der leveret v. Haven 54 Dukater til Prægning af 3 Guldmedailler (651) Og Ugedagen efter blev Medaillen første Gang uddelt til Peder Als (652). - Senere paa Aaret prægedes yderligere 10 Guld- og 34 Sølvexemplarer. Den 24. Maj fik Arbien sit Arbejde betalt med 300 Rd., hvorfra blev draget 200 Rd., han havde faaet i Forskud ved Nytaarstid (653)."
- Fra: Georg Galster: Danske og norske Medailler og Jetons ca. 1533-ca. 1788, København 1936 side 257-292
Information from seller:
This item is not for sale at auction - but can purchased right away. The "Buy now" price is all inclusive - there is nothing added, except possible shipping costs.Note! Prices are subject to prior sale.