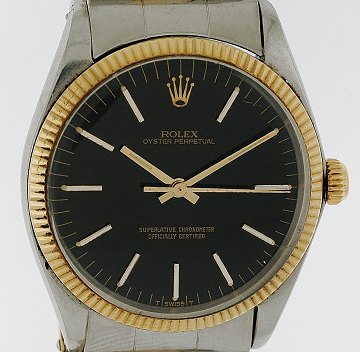 Rolex Oyster Perpetual - Vintage chronometer fra 1964
P.1549
Description:
Vintage herrearmbåndsur fra Rolex, model Oyster Perpetual, ref.nr.: 1005, i kasse og m. tidlig oysterlænke af 18 kt. guld og stål, sort skive m. stregindeks, riflet guldlynette, plexiglas, manuelt optræk. Fra 1964. Ø. 34 mm.

Fremstår m. alm. aldersbetinget patina.


NB! Der tages forbehold for mellemsalg.
Information from seller:
This item is not for sale at auction - but can purchased right away. The "Buy now" price is all inclusive - there is nothing added, except possible shipping costs.Note! Prices are subject to prior sale.