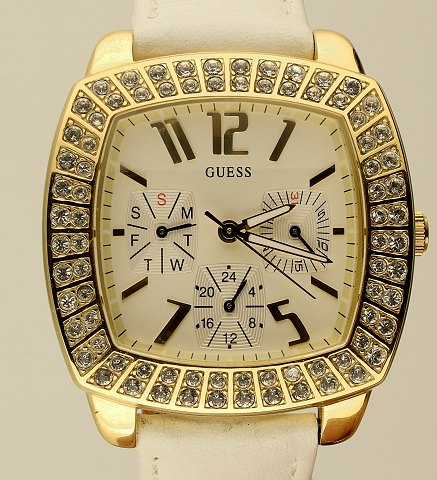 Guess dame armbåndsur - fabriksnyt
Description:
Feminint quartz analog dameur af rustfri stål. Urkassen er guldtonet med to rækket krans af hvide sten rundt glasset. Urskiven er struktureret hvide med arabertal og stegindex, separat dato, ugedags visning. Centreret sekundviser. Ø: ca. 35 mm. Hvidt læder armbånd.
Nypris 998,-
Vandafvisende.

Stammer fra ophør
Information from seller:
The Watch is sold for a customer who claims it to be in working order - but ebuy.dk gives no warranty for the functionality.